Excellence in beauty, electrolysis, aromatherapy, reflexology, massage, St Tropez and Guinot in Effingham and East/West Horsley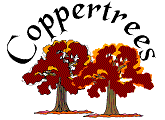 Coppertrees is currently closed for business due to the Covid-19 outbreak. For more details see my
Covid 19 page
Why Come to Me?
Advantages of Being a Client
You will always be treated by me rather than a different therapist each time. This enables me to build a good knowledge of your requirements so that I can provide the best service and treatment for you.
I offer a discreet, confidential service.
My warm, fully equipped and comfortable home based salon is quiet and peaceful with no noisy chit chat from other therapists as in a salon.
There are special treatment offers throughout the year saving you time and money.
I provide full treatment times i.e. a 1 hour massage is 1 hour hands on treatment not 50 minutes as in a salon.
Ample off street car parking is available.
My Philosophy as a Therapist
To help people look and feel better
To provide a haven of tranquility and relaxation
To use my knowledge and skills to help improve the client's quality of life
To help alleviate symptoms
To ease away tension, stress and anxiety
To provide comfort and security by combining the effects of touch and aroma
To give time and empathy to the client's needs